Ben Roethlisberger, Pittsburgh Dad, and Fantasy Football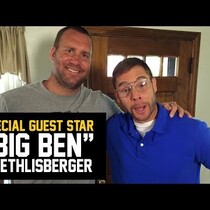 Posted September 5th, 2014 @ 10:03am
FOOTBALL IS BACK!

Here's great video from Pittsburgh Dad with Big Ben to get you ready for the Steelers game on Sunday.

Also, make sure you scroll down and check out the latest episode of the podcast. Lots of Fantasy Talk and other random topics!

NOTE: Apparently Russell Wilson is a Fantasy Sleeper (17 points last night).