THE NEW DOORS TRIBUTE ALBUM IS OUT NOW. YOU WON'T BELIEVE THE ALL TIME GREATS THAT CONTRIBUTED!
South Florida's Mark Stein, legendary keys and vox for Vanilla Fudge, called to tell me about this great project. A Classic Rock Salute to the DOORS is available now. Mark shares vocals with Mick Box on "Love Her Madly." Just look at the line up, I can't wait to hear it. Andy
Here is the press release from ABC NewsRadio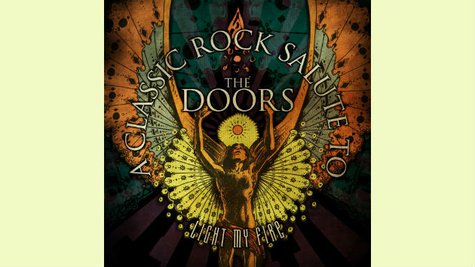 A mind-blowing lineup of veteran artists is featured on a new tribute album paying homage to The Doors that's scheduled to hit stores on June 24. Light My Fire -- A Classic Rock Salute to The Doors includes contributions from Todd Rundgren , Edgar Winter , ex- Foreigner singer Lou Gramm , former Grand Funk Railroad frontman Mark Farner , Steve Cropper , The Cars ' Elliot Easton and many others.
The album offers new reinterpretations of more than a dozen classic Doors songs, including "Light My Fire," "L.A. Woman," "Roadhouse Blues," "Touch Me," "Love Me Two Times" and "Riders on the Storm." Many of the tracks boast unique collaborations, such as "Alabama Song (Whiskey Bar)," which features Rundgren teaming up with Yes and Asia keyboardist Geoff Downes and former Captain Beefheart guitarist Zoot Horn Rollo .
Among the other artists who appear on the album are Jeff "Skunk" Baxter , David Johansen , Vanilla Fudge 's Mark Stein , Mountain 's Leslie West , Deep Purple 's Ian Gillan and Steve Morse , and several current and former members of Yes.
The Light My Fire album was produced by one-time Yes guitarist Billy Sherwood , who says of the project, "The Doors' music will live on forever, and it's my hope that we've paid tribute to the band in the highest way possible."
Here is the full track list of Light My Fire -- A Classic Rock Salute to The Doors :
"L.A. Woman" -- Jimi Jamison (Survivor), Ted Turner (Wishbone Ash) and Patrick Moraz (Moody Blues)
"Love Me Two Times" -- Lou Gramm (Foreigner), Thijs van Leer (Focus) and Larry Coryell
"Roadhouse Blues" -- Leslie West (Mountain), Brian Auger and Rod Piazza
"Love Her Madly" -- Mark Stein (Vanilla Fudge) and Mick Box (Uriah Heep)
"Riders on the Storm" -- Joe Lynn Turner (Rainbow), Tony Kaye (Yes) and Steve Cropper (Booker T. & The M.G.'s)
"The Crystal Ship" -- Edgar Winter and Chris Spedding
"Intro (People Are Strange)" -- Keith Emerson, Jeff "Skunk" Baxter and Joel Druckman
"People Are Strange" -- David Johansen (New York Dolls) and Billy Sherwood (Yes)
"Touch Me" -- Robert Gordon, Jordan Rudess (Dream Theater), Steve Morse (Deep Purple) and Nik Turner (Hawkwind)
"The Soft Parade" -- Graham Bonnet (Rainbow), Christopher North (Ambrosia) and Steve Hillage (Gong)
"Hello, I Love You" -- Ken Hensley (Uriah Heep) and Roye Albrighton (Nektar)
"Spanish Caravan" -- Eric Martin (Mr. Big) and Elliot Easton (The Cars)
"Alabama Song (Whiskey Bar)" -- Todd Rundgren, Geoff Downes (Yes/Asia) and Zoot Horn Rollo (Captain Beefheart)
"Break On Through (to the Other Side)" -- Mark Farner (Grand Funk Railroad) & Chick Churchill (Ten Years After)
"Light My Fire" -- Ian Gillan (Deep Purple), Rick Wakeman (Yes) and Steve Howe (Yes)
"The End" -- Pat Travers and Jimmy Greenspoon (Three Dog Night)

On-Air Weekdays 3p-7p and weekend middays.I'm now in my 25th year as the Gater's Music Director/Afternoon Drive Air Talent. I was born in San Juan, Puerto Rico and raised in Sarasota. I graduated from Grinnell College in Grinnell, Iowa (KDIC-FM) and paid my radio dues in Sarasota/St. Petersburg (WQSR), Gainesville (WGVL), and Orlando (WORJ-Zeta7, WDIZ and WLOQ.) From 1981 to 1991 I lived in Hawaii and worked at KPOI-98 Rock "The Rock You Live On" and KHFX "Hawaii's Classic Rock." I did my first show on the Gater April 13, 1991 broadcasting from an old funeral home just off Orange Avenue in Ft. Pierce.

I live steps from the beach on Singer Island with my cats Bibsey, Angus, and Tipsy. You'll hear The Allman Brothers and The Grateful Dead along with Pat Metheny, Little Feat, Santana and Pink Floyd always spnning at my place. People often hear me say "It'll be Fun!" and that sums it up nicely. Remember that though short in stature Warren Haynes is a towering Fire-God who looks down upon us mere mortals and laughs and Derek Trucks is truly "The Annointed One." Thanks for stopping by the website, feel free to email me... andypreston@iheartmedia.com